Pack's Activities & News

Pack 999 do not officially participate in Giu vung 12 Jamboree
Pack 999 will hold a visit to Houston Natural Science Museum with the information below:
When:Saturday morning, 9/18/04 @ 8:00AM-12:30PM
Where:Houston Natural Science Museum
Gathering Place for Departuring:Christ,The Incarnate World Vietnamese Catholic Church-8503 South kirkwood, Houston, Texas 77099
Gathering Time:7:30AM-8:00AM
Uniform:Wear Cub Scout Uniform
What to bring:$6/cub scout-(ticket&lunch included)- $9/each accompanied parent/guardian-(ticket&lunch included)
Transportation:ride on your own parent car
Pack Activity Schedule (August-December 2004) is posted on Pack Calendar page
**************************************************************************
Join Unit Five Years Aniversary Summer Camp "KET DOAN"

Hey Boys and Girl scouts !!! Our Lac Viet Join Unit will hold a Summer Camp to celebrate Five Years Anniversary of our establishment(in fact it is over six years-since Summer 1998).
Some details of the camp are as following:
When: Friday evening,August 20th, 2004, 6:30PM - Sunday Morning, August 22rd, 2004, 10:00AM
Where: Lake Texana State Park (South 59 HW, half way between Houston and Corpus Christy)
Camp Fees:$20 / person (campership is up to individual unit)
Camping Papers: will be distributed to scouts,or parents by hand-to-hand or mail soon.
More details of camping events will be posted on this website later whenever they becomes availble
Congratulation !!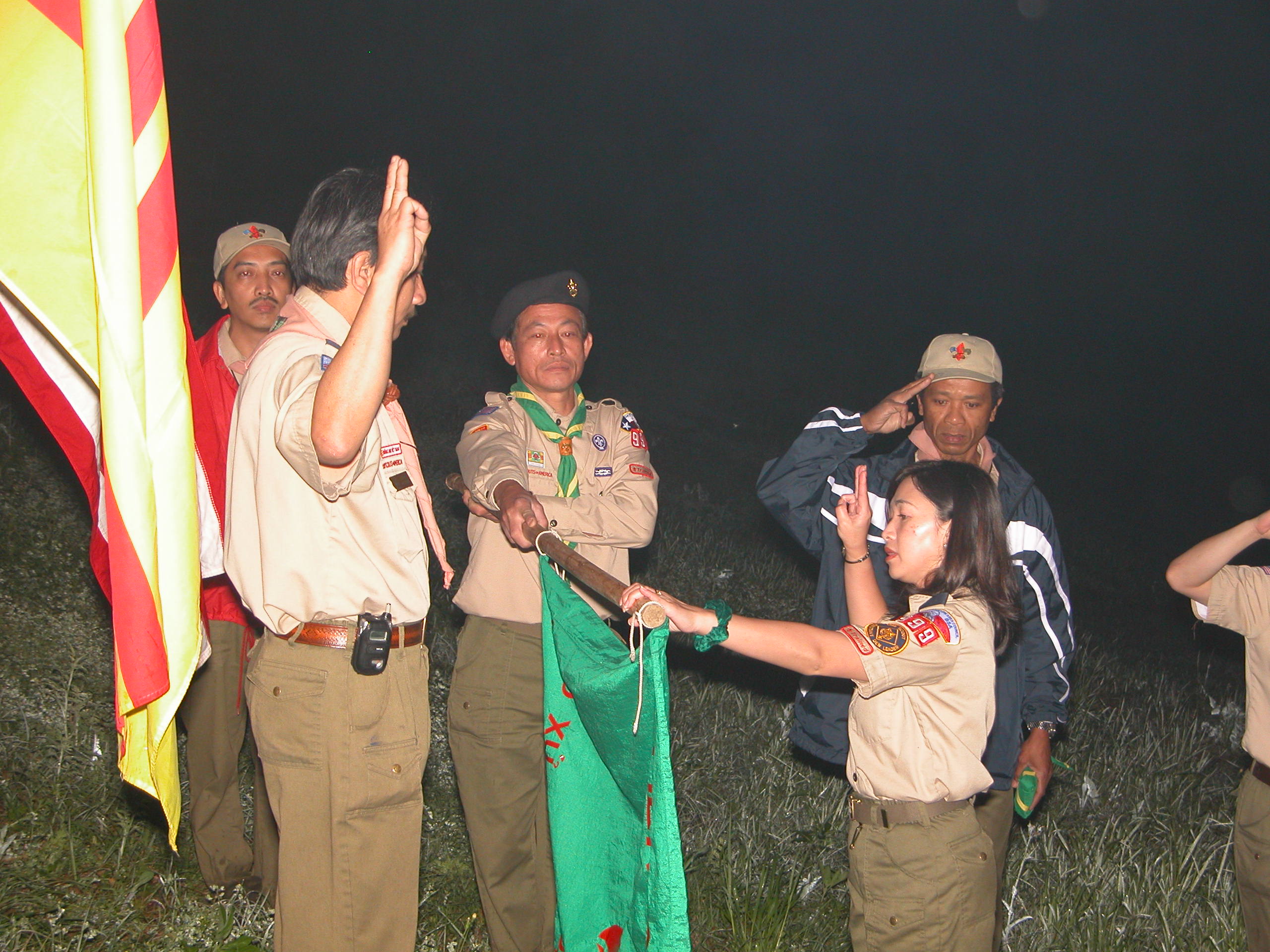 Dai Gia Dinh Au Doan Dinh Bo Linh-Pack 999 va Lien Doan Huong Dao Lac Viet han hoan chuc mung va than men chao don 02 truong cua Pack 999, Tr. Vu Quynh Phuong Judy va tr. Nguyen Thanh Thuy da chinh thuc Tuyen loi hua Huong Dao de tro thanh nhung Huong Dao Sinh chinh thuc cua phong trao Huong Dao The Gioi, Huong Dao Viet Nam va dai gia dinh Huong Dao Lac Viet. Xin chuc cac truong ben chi giu vung loi tuyen hua cua minh de mai mai la nhung truong lanh dao guong mau cho the he thanh thieu nien Viet Nam tuong lai.


Huong Dao Mot Ngay La Huong Dao Mai Mai
Hey boy ! It's time for fun and learning in Engineering, Science and Handy Crafts workshop
Pack 999 will hold an Engineering, Science and Craft Man whole day workshop for Cub Scouts to earn activity pins on Saturday, June 19, 2004. The detailed schedule will be posted when it become available
Future Lien Doan's Activities
Retreat Camping in the first weekend of April (Palm Sunday),April 2,3,4/2004
Lien Doan's five-year Aniversary and Summer Camp in the first week of August (August 6,7,8/2004)
Giu Vung 8 region Jamboree: around Nov 19,20,21 of 2004 at Cleburne State Park, South of Fortworth - Dallas. To see what the camp ground looks like, please visit: http://www.tpwd.state.tx.us/park/cleburne/


This site was designed and developed by Khoa D Nguyen. E-mail comments to khoanguyen7@yahoo.com